March 08, 2020
Home, the ideal investment for these volatile times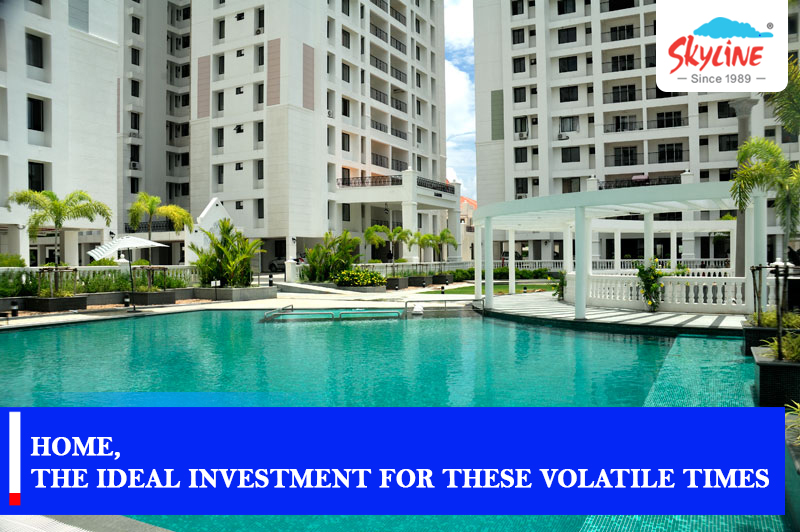 Home is the most treasured possession and the very word 'home' it evokes fond memories of happy moments. Buying a home is a cherished dream for one and all. It provides comforts, convenience, safety living environment for you and your family. Along with this, an appreciating home is a wonderful investment for the future security of your family. Also, it is the prized heirloom that is passed on to generations.
Home Vs other investment options
When it comes to financial investments, what immediately comes to our mind are Shares, Mutual Funds, PPF, ULIP, Post Office Schemes and Fixed Deposits and the non-financial investments include Gold and Home. Comparing with other investing options, investing in a home is relatively much risk-free and stable. Fixed Deposits (FDs) while being stable have a very feeble rate of appreciation especially with the current falling interest rates scenario. When you take into account inflation over the period, the returns on FDs are hardly useful. Gold, on the other hand, once considered as a very safe and progressive investment for Keralites, is no longer a safe option and it is considered as a dead asset by many.
Home-the best investment option in these changing times
India's demographics are changing. The life span of people has considerably increased. Other than a government employee, we do not have social security like in western countries.In India, one is forced to keep on working or should have substantial savings for worry-free retirement life. A growing population which is going to live longer amidst rising inflation and lack of social security definitely need a back-up plan.In such a situation, investing in branded homes can be the most profitable and safe investment option. Apart from the living space for the family, investing in a home can be a guaranteed safety net for the future of you and your family. It can provide you with a regular monthly income to have a comfortable retirement life either by way of 'Reverse Mortgage' or as monthly rental income. If a need arises, you can sell it and profit from the value appreciation.Let's first discuss the concept of reverse mortgage. Reverse Mortgage Loan provides a regular monthly income for senior citizens of India, who have a self-acquired or self-occupied home in India. The Bank makes payments to the borrower /borrowers (in case of living spouse), against mortgage of his / their residential house property. The borrower is not expected to repay the loan during his lifetime.Now let's discuss how home as an investment is more profitable than FD. The accompanying table shows a real case, where the value of appreciation, the rental income gained over a period of 10 years for an apartment in Kochi and how it beats investment in FD. All the figures shown here are real.
Another noteworthy aspect of buying a home is the payment of the same is staggered over several years. There are instances where the rental income you receive is higher than the EMIs you pay. Aditionally, by paying a nominal insurance premium all future EMIs can be waived off if any eventualities happen to the borrower. Another advantage of investing in a home is that you can start living from day one, unlike investing in land or shares.
So, from this real case above, you can see investing in branded homes is the best option for investment. But, the crucial factors that will decide the rate of return and safety of investment are the credibility of the Builder and the brand value. So make a wise choice. Start investing in homes from a credible builder and have a worry free life.