February 11, 2020
Skyline Spacious Homes in Kottayam For Your Big Family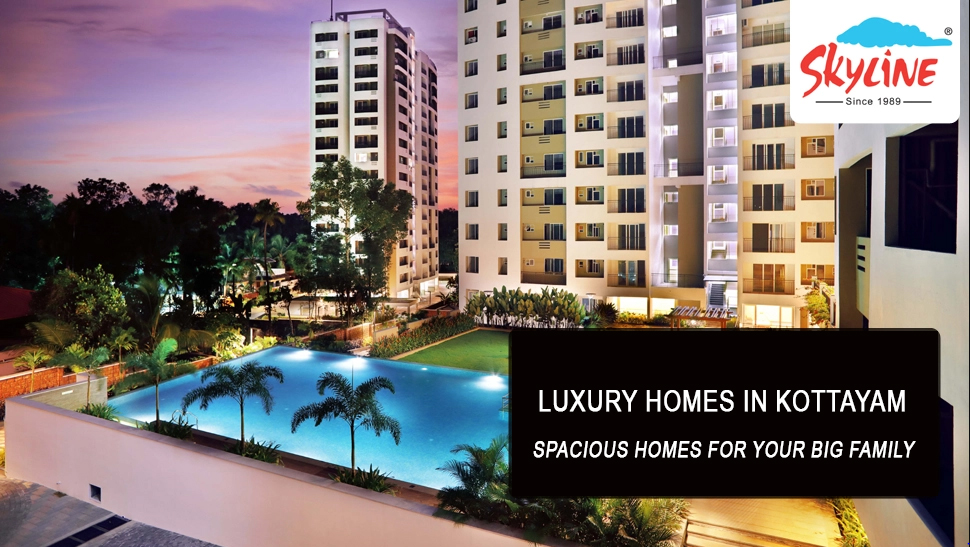 Do you dream of living with your loved one? Having a close-knit extended family? The real questions are, where to find a well-planned and spacious apartment and which is the best place to invest your hard-earned money.
Kottayam is the Akshara Nagari (City of letters/alphabet) of Kerala and rightly called so. Located in the southern central part of Kerala, the city is the centre for spices (cardamom and pepper) and commercial crops (rubber). With over 3 major print and publications houses, Malayala Manorama, Mangalam, DC Books(the largest publisher in Kerala) and Deepika having their headquarters in Kottayam it definitely rises up to its name.
Education is something one needs to consider when looking for a place to settle down. Kottayam has several great educational institutions functioning out of the city and on the outskirts. Prominent institutions like Mahatma Gandhi University, Rubber Research Institute of India and Government Medical College are situated in Kottayam.
Ilaveezhapoonchira, Vembanad Lake and the tourism capital of Kottayam, Kumarakom adds to the charm of the city. With art, literature, and nature coexisting in great harmony, Kottayam comes out as a great choice while deliberating the ideas of getting a house of your own.
Few things to consider while planning a home in Kottayam
Kottayam is a perfect location to settle down – with myriad options of wonderful place and great housing projects, you have a lot to choose from. Do your research and fix the place according to your priorities.
To buy or to invest – Kottayam has the best of both worlds. The place offers a very calm and quiet environment also it all the social facilities that modern life needs. Kottayam also has a high potential for appreciation. Skyline offers various housing options like luxury villas and apartments in prime locations of the city. Based on your plan you can choose your best address from Skyline Builders.
Connectivity – Whether you choose to buy or rent it out, the prime focus area should be the connectivity to amenities and facilities like educational institutions, healthcare institutions and places of worship. All Skyline projects are situated in the prime locations of Kottayam.
Track record of the builder: Choose a home builder with good experience and credibility in the real sector. Before buying you should check the construction expertise of the builder and their years of existence. This will give you an idea of the type of projects, quality of construction specifications etc. Skyline Builders has the track record in delivering best homes in Kerala.
Why Skyline Builders?
Skyline builder is the trusted name for over 30 years. Choose Skyline if you are looking for a builder whom you can blindly rely upon because they would choose the right location and construct your perfect home. Skyline Builders take pride in providing an impeccable commitment to each one of their projects. If you are an NRI, look no further as Skyline is in a separate class altogether when it comes to providing a living space with International Standards. The ideology of Skyline is "From our family to yours".
Skyline Luxury Homes in Kottayam
Skyline's two major ready-to-move-in luxury projects that top the list of Kottayam's real estate market are Skyline Exotica and Skyline Oasis.
Skyline Exotica – Skyline Exotica is the premium luxury apartment project located at Devalokam, Kottayam. The projects consist of 3 and 4 BHK flats. This elegantly designed ready-to-occupy-flat has just 2 apartments per floor. It has an equally impressive interior that each apartment has 3 hanging balconies which offers a spectacular view of Devalokam.
With extensive open greenery, Skyline Exotica has professional landscaped and vast open space. The intelligent design of this project offers spacious apartments with ample ventilation and natural light. Another feature of this project is it has a distinctly earmarked servant's room in each apartment with separate entry from the lift landing. This room consists of a sleeping space and an attached toilet.
This premium luxury apartment project is cocooned from the noise of the hustle and bustles of the city, but very close to all social facilities. Also, it offers a host of luxury amenities that keeps your leisure refreshing and rejuvenating.
Skyline Oasis – Skyline Oasis is a splendidly laid out luxury villa project set amidst green meadows with lush green rubber plantation. This ready-to-move-in luxury villa project is located in the most tranquil living environs of Kottayam, Sankranthi. Tucked away from the hustles and bustles of the city, this villa project has proximity to all urban civilization that includes numerous multi-specialty hospitals, educational institutions, shopping centers, etc. Skyline Oasis is well connected to Kottayam's other areas of the city.
Skyline Oasis accommodates luxuriously crafted 30 villas of 3 and 4 BHKs. The villas are designed perfectly, to provide you with a peaceful living atmosphere. This project has been awarded the 'Best Group Housing Villa Project' by the Indian Institute of Architect, Kerala Chapter.
Skyline Oasis offers a well-appointed clubhouse with luxury amenities such as a swimming pool, games room, multi-purpose recreation hall, fitness center, etc. We invite you to come and visit the villas and feel the architectural symphony.